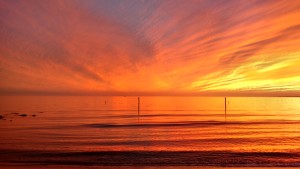 In the magical state of creation (where you spend every moment of your life, whether you are aware of it or not), the economic exchange is affected by different rules. The dream state operates on another level. The only currency is energy. And the only price to be paid is with your imagination – your thought energy. You may not have cash flow, but you always have an unlimited supply of imagination. The state of creation does not follow the same order as the U.S. economy. There is plenty for everyone. You can have it all. Or you can choose to have nothing at all. It's a choice we make based on the focus of our thoughts…what we think about; what we believe about what we think; how we feel about what we think.
So, considering you can afford the life of your dreams, what are you dreaming? Everyone has thoughts and dreams of a better life. No matter how good life is, it can always be better. Consider the thoughts which bring a smile to your face. Or the ones which make your belly tingle with excitement. And then think the thoughts which make your heart happy. These thoughts can make you feel like a million bucks! Or even more!
Take a moment out of your everyday life and give yourself a little dream time. You deserve it. You can afford it! And you really can't afford not to do it! There are twenty-four hours in the day. Surely, your dreams are worth as little as a measly fifteen minutes!
Play a little game. A dreaming game. Begin by setting your intention. Make sure that your intention is set in a way that is best for all concerned. Then simply write out this sentence:
"Even though I don't know how this will happen, I am grateful because it is now (fill in a date) and I am (enjoying, looking at, experiencing, earning, etc.) my (new salary of $xxx, new home, new car, vacation, etc.) and I feel _____________."
When you consider this sentence, pay close attention to how the dream thought makes you feel. Emotions are very, very important in the state of creation. Emotions are the fuel which fire up and feed your dream. Thought creates emotion which creates action. When you play the dreaming game, make the fire bigger by thinking about different aspects of your success. For example, if you're dreaming of a new car, fill in all the details. Make a list of the car's features and why you like them. Think about the value of independence and mobility that a car offers. Consider how you will feel when you are driving this new car and the places you will go. Step outside of yourself, and see yourself having the experience of a new car. And then feel the gratitude for your ability to create this experience. As you fill in all the details, your imagination is free to dream big. Your dream creates passion.
When dreaming, you know that anything can happen. Even impossible things. You are now dreaming.