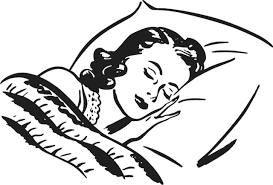 Have you had trouble sleeping? Tossing and turning all night long? Staring at the ceiling? Checking the clock? Did you know that your mind must be in the Alpha brain-wave stage to fall asleep? This is when you're still conscious, but your body is relaxed. You must relax both your mind and your body in order to fall asleep. This Alpha brain-wave stage is the state you access when you meditate or when you enter the hypnotic state. It allows access to your subconscious mind. This state enables you to focus inward. It allows you to leave the outside world behind; to turn off your rampant and roaming conscious mind so you can relax.
When you have trouble falling asleep, you often focus on that trouble. You tell yourself, "I don't sleep well." Or, "It's been ages since I've had a good night's sleep." You think about what you don't want. But… you must remember that what you focus on expands. All you can think about is NOT sleeping!!!
Your thought energy is an incredible tool. You can control this tool. Imagine you're lying awake in bed. You're frustrated by your inability to fall asleep. You think, "I'm SO tired! I just want to sleep." And then you think, "My co-worker Susie is so annoying. I can't get any work done while she's jabbering on about her stupid wedding!" And then you think about the wedding which makes you think about your lack of a relationship which makes you sad. And then you think, "Okay, I'm not going to think anymore. No thinking. Stop!"
And then you get more frustrated as you repeat the process over and over again. Susie's wedding. Mom's health. Your weight. Bills. Responsibilities. Thoughts creating emotions creating physical responses. An endless stream of thoughts are constantly running through your mind. Thoughts which disturb you. Thoughts which interfere with your ability to relax. You can control what you focus on. You can control your thoughts. You can make that choice.
The first step to changing anything is to become aware of what is happening. When a thought pops into your mind, become the Outside Observer. Notice what you're thinking and say, "I just noticed myself thinking about…" Consider this…if "I" noticed "myself"…who am "I"? "And who is my "self"?" Could it be that the "I" is the eternal all-knowing soul? And is the "self" the ego/personality of the physical experience? Is the "I" the one that is in control of the "self"? When you recognize that, you become a conscious choice maker. You recognize your power. You will find that there is a great sense of peace and wellbeing within the presence of the "I".
The next step to remember is, "What you focus on expands." Being aware of your control over what you are thinking, you now have the ability to direct your "self" into a place of deep relaxation. The most powerful point of focus is your breathing. When you're focusing on your breathing, you are focusing on something very powerful. You are feeding the cells of your body and you are connecting with the "I". Breath is the source energy of Life. Simply focusing on the inhale and the exhale will direct your body to relax and enter the Alpha brain-wave state.  It's easy. Try it.
The secret to your success is the last step: Repetition. Practice. Breathe. Count your breaths. Focus. If your mind wanders (which is likely), become aware of your power to direct your thoughts. And begin again to focus on your breath. The in breath and the out breath. When you reach ten breaths, you will notice a wave of relaxation will flow through your body. When this happens, you will know that you have made the shift from the high-frequency Beta brain-waves to the relaxed state of the Alpha. Now tell your "self" to sleep and your subconscious mind will take care of the rest.