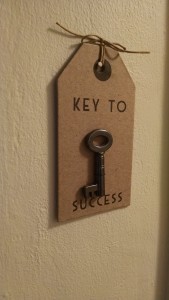 Have you failed at something? Of course you have! Everyone fails! But a failure is really just another opportunity to succeed. Which is worse… failing or never trying? When we experience failure, we may feel stupid or embarrassed. We may even feel worthless and ashamed. We may be afraid to admit that we have failed in achieving our goal. Failure feels bad. It hurts. Failure makes us feel afraid to begin again. It creates self-doubt. Yet, just as we all experience failure, we all have experienced starting over. We try again. We make another attempt or effort. We give it our best shot. And if we don't try…we regret and we wonder "what if" or "if only". Not trying may feel worse than failure.
Before you decide to start a new project after you have experienced failure, you need to evaluate what went wrong. You have to decide how you'll do things differently. In order to do better, consider these three questions. They can change your perception of your failure and motivate you to try to succeed.
"How can my past experiences help me?"
"What can I learn from doing this project?"
"What are some mistakes I might make?" Remember – it's ok to make mistakes!
Instead of thinking of yourself as a failure…think of yourself as a learner. A learner has to have a willingness to fail. When you stop trying to be a perfectionist or an expert and become a learner, you grow. You become more equipped to face challenging situations. You think more creatively. You give yourself more choices.
Your brain/mind is kind of like a muscle. It can grow and learn to do new things. Do something challenging. Go out of your comfort zone. Begin thinking in new ways. Scrabble, crossword puzzles, new recipes can all stimulate your mind to find new solutions.
Stop procrastinating. It is the enemy of learning and creativity. If you have a habit of putting tasks off, maybe it's because you expect perfect results from yourself; you expect perfection from others; or you think others expect perfection from you. Where did you get these ideas? When you take on your work before a deadline, you take control of the problem. You give yourself a break from the stress. When you're not stressed out about time limits, you are more able to think clearly. You give yourself time to experiment with new ideas and concepts. You encourage and stimulate the learner. You are capable of learning whatever you need to know.
Learners have possibilities. Every failure or mistake is just one step closer to success. Failures become insights and invite celebration rather than dismay. Failure does not define you as a person. You failed at an action; performing a particular task. That's all. No big deal. You learned from it. Get over it and move on. Tell yourself it's okay to make a mistake. Everybody makes mistakes! Stop judging yourself by impossible expectations.
It's worth a try. And a try again. Make an effort to learn to succeed. You only fail when you don't try.