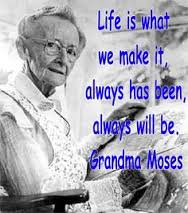 Later in life, some of us experience regret about what we didn't accomplish. We didn't achieve what we wanted. We didn't fulfill our true potential. We didn't travel the world. We didn't find our soul mate. We didn't learn to play the piano. These "didn'ts" can cause pain. They can make us feel as if we had failed at life.
The ability to do new things and learn new skills does not expire. We can always improve and become better versions of ourselves. My dad passed away at the age of 93. One of the many things he taught me was that you could do anything you set your mind to do; you could learn anything. And there were no limits as to when you could begin. When he was 75, he decided to learn how to paint with oils. So he got an easel, some canvases and paints. And then he painted.  When he was 88, he invested in a computer so that he could learn about the internet. And then he explored the new world of cyberspace.
Almost without exception, some of the regret experienced later in life is a result of not "achieving" something. When one feels that they haven't fulfilled their true potential, it can leave a painful mark. Self-discovery and improvement can happen at any time in life. The ability to improve oneself does not expire. It is a never-ending process.
"You must live in the present, launch yourself on every wave, find your eternity in each moment. Fools stand on their island of opportunities and look toward another island. There is no other land; there is no other life but this." – Henry David Thoreau
There are many stories of people who began new careers at an advanced age. One such person is Anna Mary Robertson, known as Grandma Moses. She began her painting career at the age of 78 (I think maybe Dad was inspired by her) and painted until her passing at the age of 101.
There is also a lesser known woman who should be acknowledged: Doreetha Daniels. Doreetha, a multiple stroke victim with vision and hearing problems recently received her college degree from College of the Canyons in Santa Clara, California. Doreetha is 99 years old. She advised prospective students: "Don't give up. Do it. Don't let anybody discourage you. Say that, 'I'm going to do it,' and do it for yourself."
One faculty member said: "Doreetha is a living testament to the saying 'if there is a will, there is a way'…" Doreetha was motivated to go to college by two things. She was tired of her hobbies and wanted to expand her interests. And she was inspired by her grandchildren, who after starting families and careers, went back to school for graduate degrees.
Consider Thoreau's words …"there is no other life but this." Take the opportunity to live it to the fullest. Live until the very end. There is no limitation to what you can accomplish. There is no time limit to being actively engaged in life.